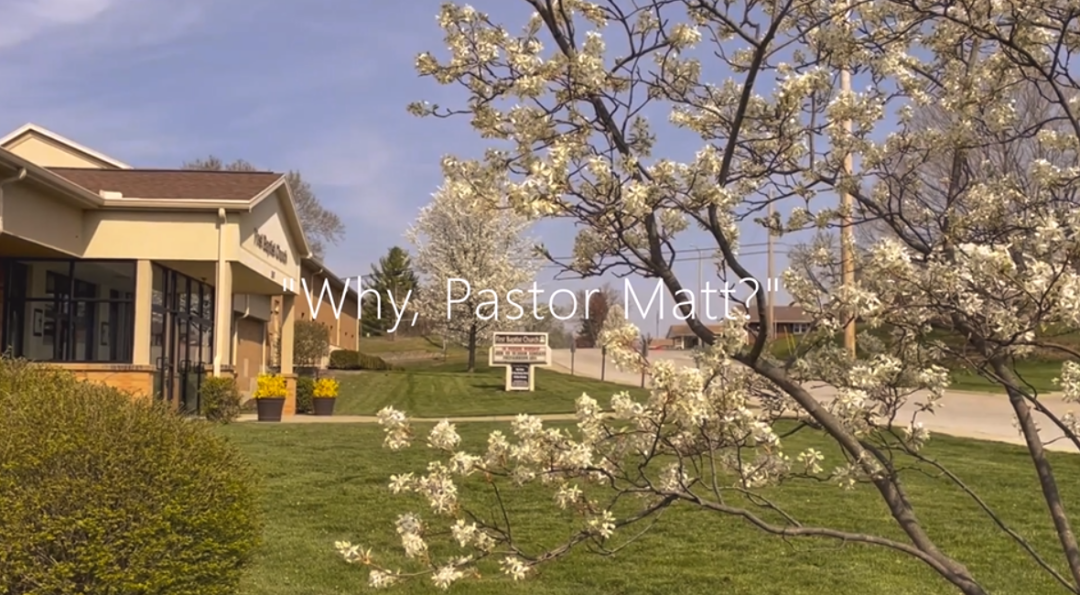 That is a great question! The first way I would answer that question is to define "we." Who is we? I presented my vision for discipleship to the Deacons early on in 2020 and asked them to pray and give me their feedback. After months of prayer and listening to their wise counsel, the Deacons agreed that this would be a good change for our church and that I should present this to the entire church. I happily did so, if you recall, in what I called the "who we are and where we are going" class. This was held in the sanctuary where I spoke honestly about the health of our church. As I cited the ACP (Annual Church Profile) and the concerning trends that many of us saw, that if continued, would end in us closing our doors in about 7 years. This sobering reality motivated the necessity for change. And while your leadership does not wish to make change for change's sake, we do need to lead in making changes that move us closer to the heart of New Testament discipleship. Let me explain.
Paul tells young Timothy, "You then, my child, be strengthened by the grace that is in Christ Jesus, and what you have heard from me in the presence of many witnesses entrust to faithful men, who will be able to teach others also (2 Timothy 2:1)." In this verse we see four generations. Paul (1) tells Timothy (2) to entrust to faithful men (3) who will be able to teach others also (4). Isn't that awesome! The gospel must be taught to future generations. It is the great privilege of all believers to invest themselves in a younger Christian who will be able to do the same. The future of Christ's church depends upon making disciples.
In Titus 2 Paul tells young Titus, "Older men are to be sober-minded, dignified, self-controlled, sound in faith, in love, and in steadfastness… Likewise, urge the younger men to be self-controlled. Show yourself in all respects to be a model of good works, and in your teaching show integrity, dignity..(Titus 2:2, 6)." In the middle of that Paul speaks to women and says, "Older women likewise are to be reverent in behavior, not slanderers or slaves to much wine. They are to teach what is good, and so train the young women to love their husbands and children, to be self-controlled, pure, working at home, kind, and submissive to their own husbands, that the word of God may not be reviled (Titus 2:3-5)." Once again, we see what I call generational discipleship. Older men are to teach younger men and older women are to teach younger women. Paul tells his two young pastors to establish generational discipleship in their churches. It is important to note that Paul's command is not given to his two young pastors only, but also to ordinary "men" and "women" in their churches. In other words, everyone is to engage in making disciples of the generation that follows! If you think about it, this makes a lot of sense. What would happen if one (just one!) generation ignored this command and only hung out with their peers, not bothering to invest in the next generation? The church that omits this simple command dies because there would be no disciples coming after them.
One of the observations that concerned me when I first got here was that, with few exceptions, most Sunday School classes were designed around peer groups. That is people of a similar age. So, I posed this question to the church. How can we obey Paul's command for generational discipleship if we never hang out with church members of a different generation? Rather than "hoping and praying" that this will happen, your leadership desired to design an intentional discipleship model that fostered generational discipleship. Thus, discipleship classes (or DC's) were born January 3, 2021. I have heard many comments from older folks like, "it is so nice to get to know some of the younger people in our church." Likewise, I have heard comments from younger members who say things like, "I love getting to hang out with older Christians in discipleship class because they have so much wisdom." It is also noteworthy to know that I did not invent this model of discipleship. That would be giving me way too much credit. This model goes all the way back to the Apostle Paul and many churches, in the past and current, that have designed their classes around a generational discipleship model. I pray that this change will bless you as you grow closer to Christ!