First Time Guest?
We would love to have you join us for services and small groups! When you arrive please come to the welcome desk, located in the foyer, so that we can help you with any questions that you might have. Our church was founded on the dreams of a U.S. Air Force captain's wife, Kathy Cochran, and so we have a long history of a military presence in our congregation. We take pleasure in welcoming and serving military families in our church.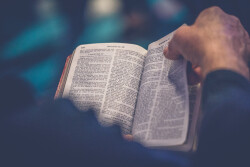 What You Can Expect
One way we implement our vision statement is through corporate worship on Sunday morning. During our worship services we read the Bible, sing the Bible, pray the Bible and preach the Bible.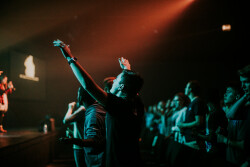 Music
Praising God through song is one way we accomplish the primary goal of glorifying God during our worship services. Because God is our focus, we emphasize "two c's" of music during our worship service. The first "c" is content. We select our songs because of their Biblically accurate and Christ Centered content. This is what we mean by "sing the Bible." The second "c" is congregational. We focus on songs that the whole congregation can sing. Listen to our playlist.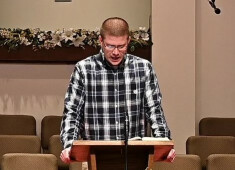 Preaching
The most important element of worship is the preaching of God's word. Our preaching seeks to expose the meaning of the original author, to the original audience, with contemporary applications. This way of preaching most glorifies God because it seeks to understand what God is saying to us.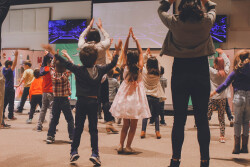 Discipleship Classes
Our adult Discipleship Classes are designed to help a person grow in Biblical knowledge and form strong relationships with other believers.
FAQ's
How should I dress?
Dress comfortably. We welcome casual dress, formal dress, and everything in-between.
Where should I park?
If you are driving onto our campus from Highview Dr, we have guest parking immediately on your left. This lot is located directly behind Speedway. However, if you have a child 8 weeks old through kindergarten age, you will likely find it convenient to park close to the playground in the back of our church. This will allow faster access to the preschool wing.
Where can I take my kids?
If your child is 8 weeks old up through kindergarten age, you can bring your child to the Youth Wing door to the left of the playground (Door #4). This will allow for easier access to the Preschool Wing.
If your child is 1st grade through 12th grade, it would be more convenient for you to park in our guest parking directly behind Speedway. Then you may enter the main doors of our church (Door #1). You will find a Welcome Center there, where one of our members will greet you and direct you on where to go.
Can my kids sit with me in the service?
Yes they can. We also provide a program for 1st and 2nd graders during the preaching portion of our worship service with security systems in place to keep your children safe and help them learn about Jesus before they transition into corporate worship.
How do I find my way around your church?
We have signs around the church that do give direction. However, please feel free to ask any of our members for directions, and we would be happy to help you.
Can I meet and talk with the pastor?
He would love to meet you! After the service our pastor will be in the foyer to greet people as they leave. You may also request a pastoral visit by contacting the church office.
If you have any other questions, please contact us directly! You can call us at (937) 878-8629.
You can also email us at
WHAT'S YOUR NEXT STEP?
At FBCF we believe in the the transforming power of Christ. We're so excited you're interested in learning more about who we are and joining the family!